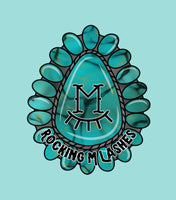 About Us
Rocking M Lashes are adhesive mink eyelashes, designed to help every women express their style and personality! We offer several different styles ranging from 16mm to 22mm in length. Lashes can be worn up to 25+ times if properly maintained. Lashes and turquoise are two of my biggest passions so I thought what better idea than to offer both to my customers! Authentic sterling silver and natural stone jewelry will be offered along with gorgeous lashes to make you feel fabulous! 
Shipping: 3-5 business days 
Contact: madison@rockingmlashes.com
Psalm 139:14
I praise you, for I am fearfully and wonderfully made! Wonderful are your works; my soul knows it very well.